Win passes to attend encore screenings of The Met in HD in MD/DC
Do we have any opera lovers in the house? We've got free passes to see summer encore performances of The Met Live in HD in Bowie, MD. Find out how you can win a pair!
CliqueClack has partnered with Fathom Events to offer readers in the Maryland/DC area an opportunity to attend special encore screenings of The Met: Live in HD. The Metropolitan Opera and Fathom events will once again present Summer HD Encores, a series of choice encore performances from the groundbreaking Live in HD series. Patrons will have the chance to see these shows in a theatre that will bring it to life in a very unique setting.
We have five pairs of passes available for each screening which take place on Wednesdays at 7:00 PM, June 25th – July 16th. Screenings will be held at the Regal Cinemas Bowie Stadium 14, 15200 Major Lansdale Blvd, Bowie, MD. To get your free pair of passes, you must comment below with the name of the performance you wish to see. A description of each performance is listed below.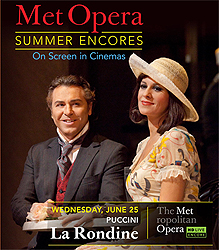 La Rondine — Wednesday, June 25th, 2014
Program Length: 2 hours
Puccini's achingly beautiful score charmingly conveys the plight of Magda (the "swallow" of the title), who unexpectedly finds true love with the handsome young Ruggero. But their idyllic life comes to a premature end as she is haunted by the fear that her checkered past will ruin his future. Opera stars Angela Gheorghiu and Roberto Alagna portray Puccini's star-crossed lovers. Nicholas Joël's production features elegant and sophisticated art-deco sets that contribute to the dazzling stage picture.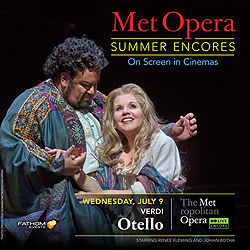 Otello — Wednesday, July 9th, 2014
Program Length: 2 hours 50 min
In Verdi's retelling of Shakespeare's towering tragedy, Renée Fleming gives a captivating performance as the innocent Desdemona, a role long considered one of her calling cards. As the title hero, Johan Botha, delivers an imposing portrayal of a proud warrior brought down by jealousy, and Falk Struckmann is thrilling as the villainous Iago.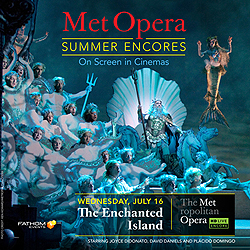 The Enchanted Island — Wednesday, July 16th, 2014
Program Length: 3 hours 15 min
A contemporary take on the 18th-century genre of the pastiche, this delightful Baroque fantasy brings together some of the greatest arias and ensembles by Handel, Vivaldi, Rameau, Purcell, and other composers, with a new English libretto by Jeremy Sams, inspired by Shakespeare's The Tempest and A Midsummer Night's Dream. The all-star cast is headed by David Daniels as Prospero, Joyce DiDonato as Sycorax, Danielle de Niese as Ariel, Luca Pisaroni as Caliban, and the legendary Plácido Domingo as Neptune. William Christie conducts this dazzling world-premiere production.
Please include your full name and email address on the submission form. Winners will be notified by email with further instructions. Don't delay, comment today!
Photo Credit: Fathom Events