Fifty Shades of Grey is fifty shades of painful to watch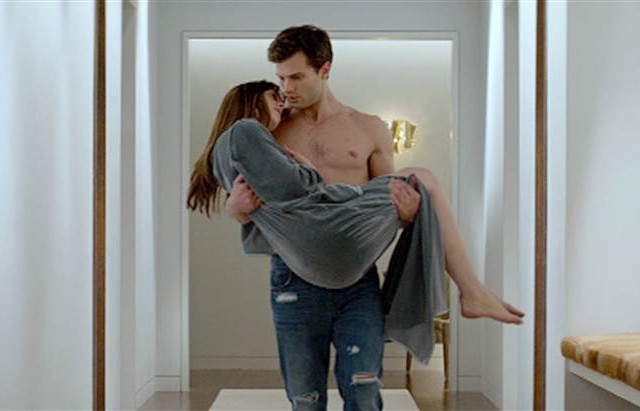 When erotic fiction is watered down for consumption by the masses on the big screen, is there any doubt it might have some flaws? Just how bad is 'Fifty Shades of Grey' anyway?
When Fifty Shades of Grey made its way through my circle of friends back in 2012, I picked it up and read it mostly so I would know what it was all my friends were talking about on Facebook. I was mildly curious, and it was this mild curiosity that kept me reading it until the final page. However, by the time the novel was over, I felt a closure with the characters. I didn't care enough about their fates to pick up either of the two sequels. It was this same mild curiosity that caused me to accept the review invitation for the film, released today by Focus Features, and I have to say watching the film adaptation was even more painful to sit through than reading the first novel.
I think my biggest problem with Fifty Shades of Grey is that it's billed as this great, sweeping love story that couples should want to watch unfold on the big screen this Valentine's Day weekend. It's about as romantic of a notion to me as Pretty Woman. Much like I never understood why a story about a rich man using a prostitute to his advantage and then taking her off the streets on a whim is considered an epic romance, I don't understand why this one is billed as such either.
The relationship between Christian Grey and Anastasia Steele isn't romantic, nor is it even healthy.
The relationship between Christian Grey and Anastasia Steele isn't romantic, nor is it even healthy. But I get the way it's romanticized on the big screen because it's an escapism/fantasy for some and it begins innocently enough like a conventional love story for others. Anastasia is an awkward but intelligent college senior majoring in English lit who fills in on an interview with the successful Christian Grey as a favor for her sick roommate. It turns out that not only is he the incredibly rich and powerful owner of his company, but he's also young and handsome. He is the type of man with a commanding presence, beautiful eyes and a boyish smirk that can make a woman swoon just by passing her by. Once you throw in that he can also pilot his own private helicopter to fly you to a different city to wine and dine you, I can see why that would make most women weak in the knees. To that end, he was cast well. Actor Jamie Dornan is easy on the eyes. I really didn't have a problem with Dakota Johnson cast as Anastasia. She's awkward but pretty like her parents (Don Johnson and Melanie Griffith). She bites her lip in a suggestive way during the appropriate scenes, and overall I think she's a better young actress than the one they found to be in the Twilight films. She's capable of showing a range of emotions, reacting to things like she was an actual human being and not just a caricature of one.
Anastasia is drawn to Christian because she finds him enigmatic and mysterious. Behind all the wealth and the prying eyes of the public is a man who shields the secrets of his private life to even those who are supposed to know him best. In turn, Christian is drawn to Anastasia because she's like a blank slate waiting to be filled – in more ways than one (terrible pun inserted because it's really nothing more than a terrible story line that you'd find in a poorly written porno). It seems Christian is a control freak with a capital "C." His need to dominate trickles all the way from the boardroom of his corporate empire down to his personal relationships. This intense desire to be in control carries over to the bedroom, as Anastasia soon discovers.
If the "Christian Grey Experience" is anything like it is in the film, it'd be awkward, frustrating and degrading.
Christian introduces Anastasia to the world of BDSM: doms and subs, whips and chains, handcuffs and playrooms filled with sex toys designed to inflict pain and desire until they're maddeningly one and the same. However, their relationship is not even considered a healthy dom/sub relationship according to the rules of the BDSM community. Both individuals have to know upfront clearly what is expected of them and be comfortable with their roles. Anastasia is clearly not comfortable in her role, and I can't say that I blame her. I don't care what kind of upbringing he had or how much of a control freak he is, there are no excuses for the way he treats her in the book or the film. You don't treat someone you love in that manner. Christian comes across as very one-dimensional and selfish. Anastasia is seen as an object of lust to dominate in his "Red Room" instead of a strong, intelligent, beautiful woman. I realize three things about Fifty Shades: (1) the sex has been watered down for consumption by the masses (even the old ladies next to me were not terribly offended), (2) it does not depict how the BDSM lifestyle probably really is (based on mutual consent) and (3) I don't understand why anyone would want the "Christian Grey Experience," which is apparently a thing now. If the experience is anything like it is in the film, it'd be awkward, frustrating and degrading.
One of the biggest problems plaguing this film is the coming together of Dornan and Johnson as Christian and Anastasia – they lack chemistry during the sex scenes. This is a pretty unforgivable blunder when like a third of the film is them having sex. Another major hurdle is making the story believable in an unabsurd kind of way, something I think it does a poor job of in the final product. Scenes that should be emotionally charged and powerful come across as nothing short of ridiculous, and I think this is perhaps heightened by the ultra-serious musical score provided by Danny Elfman. I love Danny Elfman, but in this particular case, his music just didn't seem to fit certain scenes quite right. The lines are often corny and delivered so woodenly by the actors you're not sure if they don't understand what they're saying or if they just didn't want to be there that day. The negotiations for the contract between the two makes the entire thing so stilted that it takes all the spontaneity and excitement out of the relationship. Wait, isn't marriage itself a contract that also takes some of the spontaneity and excitement out of some relationships? The jury is still out on that one.
Leave it to Beyonce to take a Beyonce song and actually make it a better Beyonce song … like a musical Inception.
However, all things considered, I do not feel this is the "worst film of all time." The awkwardness of it makes it actually kinda funny in spots. The audience laughed at things that were probably not meant to be funny and there were some "hot and bothered" audience members in my showing who would shout out unexpected exclamations that also made it a funnier experience. But it is my humble opinion that the best thing about Fifty Shades of Grey is its soundtrack. It's full of haunting refrains from the likes of Annie Lennox, AWOLNATION, Ellie Goulding and Beyonce. Leave it to Beyonce to take a Beyonce song and actually make it a better Beyonce song. It's sort of like a musical Inception. What she does with the new arrangement for "Crazy in Love" left me breathless. I think people will be talking about the music much longer than they will be talking about the acting or the story. The only thing worse than the abrupt ending is the knowledge that there are two more novels lurking out there, and presumably, two more films waiting to be released.
Photo Credit: Focus Features