Win passes to see Billy Elliot: The Musical in Los Angeles or DC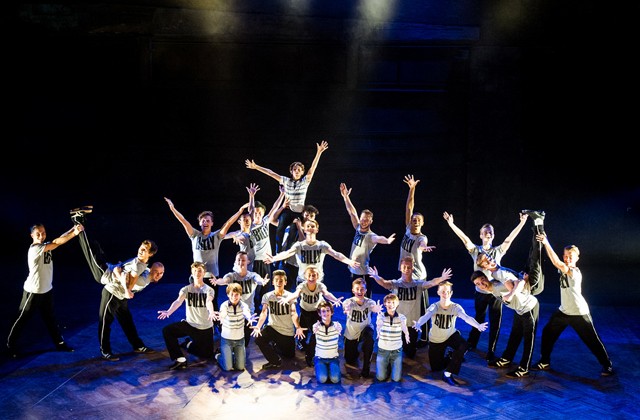 Win a pair of free tickets to a special theatrical presentation of 'Billy Elliot: The Musical: Live from the West End' in Los Angeles or Washington, DC. Find out how you can get yours!
CliqueClack has partnered with Fathom Events to offer readers in Los Angeles and Washington, DC an opportunity to attend a special presentation of Billy Elliot: The Musical: Live from the West End.
Set in a northern mining town, against the background of the 1984/85 miners' strike, Billy Elliot is the inspirational story of a young boy's struggle against the odds to make his dream come true. Follow Billy's journey as he stumbles out of the boxing ring and into a ballet class where he discovers a passion for dance that inspires his family and whole community and changes his life forever.
This unique cinema event will feature the return of Liam Mower, the first boy ever to play the role of Billy on stage, in the role of Older Billy. PLUS, as a special treat, 25 past and present Billy actors will reunite for a very special mash-up finale!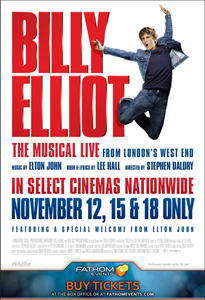 A very limited number of passes are available for the following presentations:
Saturday, November 15, 12:55 PM, Citywalk Stadium 19, Universal City, CA
Saturday, November 15, 12:55 PM, Regal Cinema Ballston, Arlington, VA ALL TICKETS HAVE BEEN CLAIMED
Tuesday, November 18, 7:00 PM, Regal Cinema Ballston, Arlington, VA ALL TICKETS HAVE BEEN CLAIMED
Tickets are for regular paid screenings. Seats are guaranteed for these events. Additional tickets may be purchased by clicking on the poster.
To be eligible for the free tickets, please read and follow the directions CAREFULLY. There will be no exceptions.
Comment on this post ONLY either CITYWALK, REGAL SATURDAY or REGAL TUESDAY. Please do not include any other information in the comment box. If you make a mistake, do not edit your comment because it will not register. You must submit a new comment.
Include your FULL NAME (First and Last) and email address on the entry form (NOT in the comment box!). Double check your email address before submitting. If your email address is misspelled, we will not be able to contact you.
ONE entry per person or couple will be accepted. Each winner will be contacted by email with further instructions. Tickets will be mailed directly to the winners.
CliqueClack has the right to discard any duplicates or comments that appear to be duplicates. Multiple comments from a single person will result in complete disqualification. As this is not a random drawing, only one person per couple needs to comment. Keep these offers fair for everyone!
Check your calendar before commenting. If you have no intention of using the passes, please don't leave a comment. Please be considerate!
Deadline to submit comments for Los Angeles is 6:00 PM (Pacific), Saturday, November 8. Deadline for DC area is Noon (Eastern), Sunday, November 9.
Photo Credit: Billy London Limited