Beside Still Waters is an eminently watchable indie film about regular, damaged people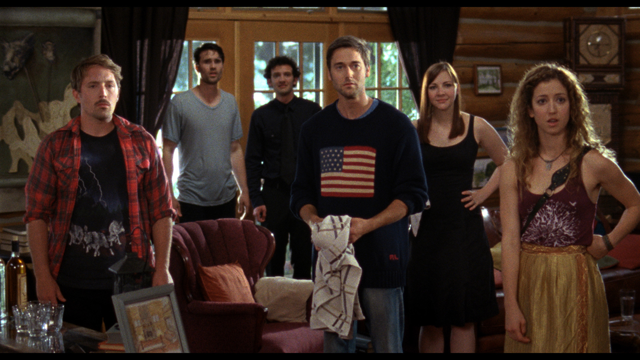 'Beside Still Waters' is a new take on the classic reunion story, with influences both classic and modern and a cast of interesting characters.
Do you still have friends from your childhood? How about your college days? The answer may depend on how old you are, or perhaps it may not. Some people retain such friends for years, but that also doesn't mean that they are friends past the updates on Facebook. This is why high school reunions are fascinating and confusing; you never know what to expect. Will your thin, gawky friend become a record breaking weight lifter? How many children will everyone bring? Are people still holding grudges or crushes long past? And will there be any fighting or drunkenness? I suppose it depends on your high school. My reunion was dull. But I haven't thought of making it into a movie.
Beside Still Waters is an indie movie from writer/director Chris Lowell of Veronica Mars fame, although he does not star in the movie at all! Zach Braff, you taking notes? The conceit is a relatively simple one: the reunion. It's the depth of characters and dialogue that elevate the idea from cliche. Daniel (played by Ryan Eggold of The Blacklist) is depressed after the recent death of his parents and the foreclosing of their vacation cabin — the cabin that he and his friends spent summers at when they were young. So he gathers together his old crew, all of whom come with their own secret, or not so secret, issues and problems that will soon surface. Among them is Tom (SNL's Beck Bennet), the gay guy in the group who's also a misanthrope, Charley (Jessy Hodges), the wild girl, James (Brett Dalton of Agents of S.H.I.E.L.D), the current reality star, and young lovers turned bored married couple Martin and Abby (Will Brill and Erin Darke). But of course, there's also Daniel's old flame Olivia (Britt Lower), but she's bringing a surprise guest: her boyfriend Henry (Reid Scott of Veep).
The draw here is to see characters that have complicated histories colliding again after many years.
Soon enough, alcohol is consumed and secrets revealed. Terrible choices are made, some forgiven, some not. Some characters will experience catharsis and growth, others pain and suffering. This is the story of friends on a last get together for just one night of laughs and memories. I've heard a few compare this movie to The Big Chill from 1983, but I haven't seen that movie, so I can't speak to the comparison. Still, I can look at the movie from the perspective I have without knowledge of that particular one, as I've seen other reunion movies. The draw here is to see characters that have complicated histories colliding again after many years, and because of that the movie succeeds or fails on two things: 1) The story and 2) The characters. These two ideas are intertwined, of course, but the good news is that the movie works pretty well.
I didn't find all of the characters completely compelling, but most had at least a few important things happen to them. Charley was mostly forgettable as a character, and I had trouble remembering what impact she had on anything. The travails of married couple Abby and Martin aren't the most interesting, but the characters gain depth as the movie progresses. Arrogant actor James has a fascinating personality and a mostly predictable story arc, but I found Brett Dalton to be interesting enough to keep my interest. Naturally the biggest storyline is the grieving Daniel and his attempts to reconnect with his ex-girlfriend while the new boyfriend, Henry, looks on in concern. I liked Britt Lower a lot here as Olivia, going through some very complex but believable character points.
As for the big guy, Ryan Eggold does a pretty good job, although sometimes I found the material to be a little advanced for his capabilities as an actor. Usually the movie is shot pretty typically, but there are some clever bits later on with editing and dialogue tricks with a pretty great extended run of intermixed and interconnected conversations that I had to nod my head at in appreciation. For a character-based indie movie, I found the movie very well paced and very rarely boring; it helps that it's only 76 minutes long, so it zips along.
Not every twist and turn were that fascinating, and there were some pretty terrible things done that were glossed over, but that would spoil things. In the end, I liked watching these characters, even if I will likely never see them again.
Beside Still Waters is currently available at select theaters and will be available on iTunes and on demand November 18th.
Photo Credit: Tribeca Film