Wreck-It Ralph is a charming, heartfelt, very-nearly-but-not-quite classic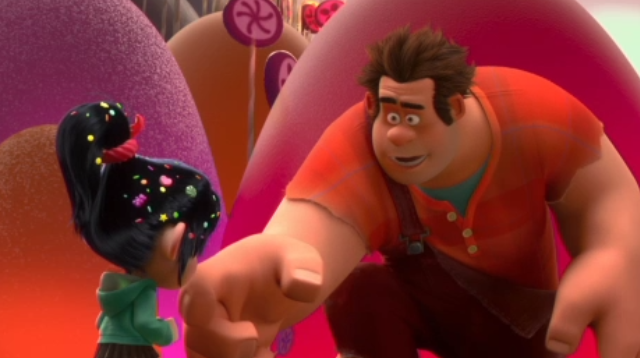 'Wreck-It Ralph' contains a sense of both pathos and joy, with enough old school video game shout-outs for the older watcher.
What do you do when all you have is your job? If it's fulfilling and meaningful, you've got that much to keep yourself pushing on. But what if your job just … stinks?
Wreck-It Ralph begins with almost instant parallels to Toy Story, with its mixture of a real world arcade and how the video game characters interact with it. But soon enough, we see this is only part of the story, and not the important part. Ralph (John C. Reilly) is the villain of a classic 80's arcade game that's still somewhat popular in the modern age (similar to Donkey Kong or Pac-Man), the titular wrecker of buildings before the hero Fix-It Felix Jr. (Jack McBrayer of 30 Rock) fixes it all with his magic hammer. But after 30 years of the same old, same old, Ralph longs for something more — acceptance and an end to his loneliness and isolation. Strong stuff already. The previews have already shown the fantastic "Villains Anonymous" scene where Ralph opens up with all the classic video game villains, although I wouldn't call Street Fighter II's Russian wrestler Zangief a villain.
The movie starts strong, almost shockingly so.
The movie starts strong, almost shockingly so, even more if you (like I did) actually played some of those classic games as a kid. Can't help but smile at it. The rest of the movie, while still a lot of fun, doesn't quite live up to its initial potential. It wavers a bit quickly, when Ralph gets into his head that he needs to get a medal like Felix gets after each winning game — after that, everyone will love Ralph. From then, it's an escape into the fabulous Game Central (an analog for a surge protector connecting each arcade game), filled with dozens of video game cameos, some visible for only a second — keep an eye out for Q*Bert! Ralph ends up in a first person shooter amalgam called Hero's Duty (based on such games as Call of Duty and Halo) where he runs into hard as nails Sgt. Calhoun (a very good Jane Lynch, although … well I'll get to that). Through a few more plot machinations that I won't spoil, Ralph ends up in a cutesy Japanese-inspired racing game meeting another outcast, Vannellope (Sarah Silverman). Vannellope desperately wants to race, but isn't being allowed by King Candy (an utterly spectacular and unrecognizable Alan Tudyk, channeling Ed Wynn).
It's really more of a straightforward action movie, with some clever bits.
Without spoiling the plot, it's hard to get into the specifics of where the movie does and doesn't work, but essentially it contains three plots. The main one, the story of Ralph and Vannellope, is the strongest and most meaningful, building up a relationship quickly between two different but similar characters. The next plot is about the possible invasion of the cutesy game by the violent one, which could lead to the game being unplugged — it sort of drives the story, especially the third act. But it's really more of a straightforward action movie, with some clever bits. The other subplot is the romantic one, which I won't even explain, because it went on too long and I don't want to give it away. Some people might still like it, after all. But Sgt. Calhoun's character ends up being the least interesting of the bunch.
The movie is preceded by the interesting animated short Paperman that blends 2D animation with 3D elements in a lovely, wordless love story. It's a nice way to get started, although the 3D in Wreck-It Ralph is purely serviceable, not required.
The movie is a lot of fun, and even a bit meaningful at times (some actual moral ambiguity at first) before it becomes just a decent Disney movie. So you don't need to be a video game fan to enjoy this movie, but it certainly helps.
Photo Credit: Walt Disney Animation Studios